Over two years we have engaged with different artist-run organizations to ask: How do they organize their work-lives? What influence does their art production have on organising practices, structures and vice versa? And are there possibilities to (re)formulate utopian work-lives based on solidarity, despite conditions of highly individualized work that go beyond the field of art?
We became aware that the ways we relate in work, through work, with work hold the utopian longing that drives everybody involved with it. We thus wanted to end our journey with a sympósion inspired by Plato's dialogues, who conceptualises a sympósion as a rich and on-going conversation on an agreed topic over food and drinks.
While at Plato's time, the agreed topic was 'Eros', we invited different people to think, eat, talk, drink, discuss on various aspects of the overall theme 'Work as a Relation'. Participants were askes to think about 'Work as a Relation' with regard to their own work-live practices and ways of organising to develop a short contribution to an on-going self-organised conversation over two days.
Day one with…
Yoav Admoni (Betonest/Ponderosa)
Ursula Berzborn (KuLe)
Prof. Saskia Hebert (HBK Braunschweig)
Eleonora Herder (ID Frankfurt)
Prof. Monika Kostera (Jagiellonian University, Kraków)
LuLu Obermayer (KuLe)
Norbert Pape (PAF)
Elena Polzer (ehrliche Arbeit)
Caique Tizzi (Agora)
Stefanie Weismann (KuLe)
Simone Willeit (Uferstudios)
Elisabeth Wulff-Werthner (Zentralwerk Dresden)
Who is we? Sociality beyond community…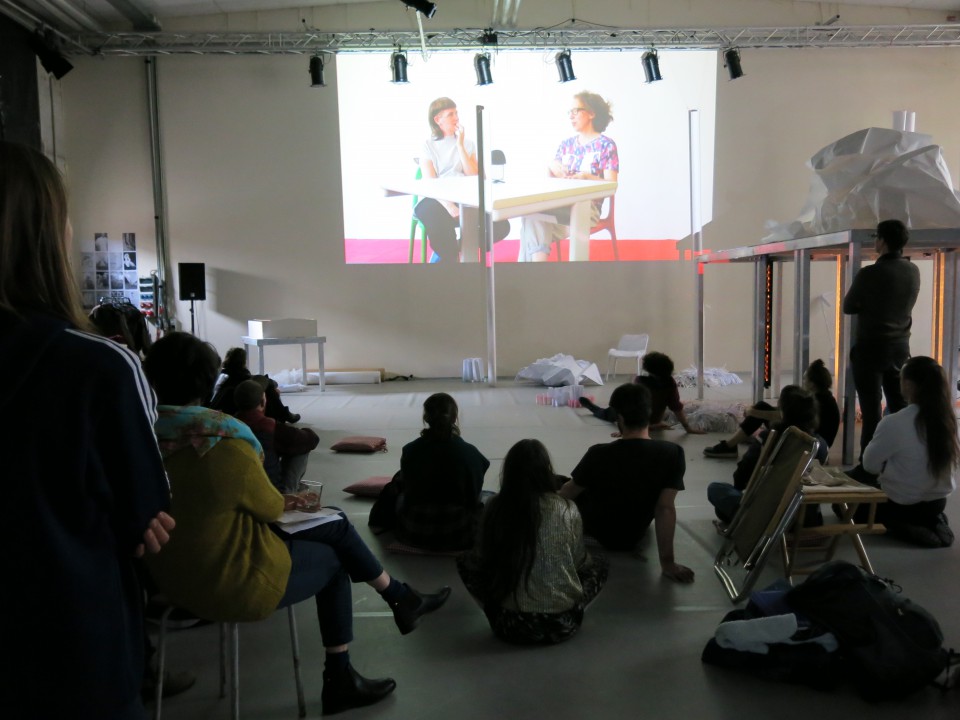 After various contributions from people in the room, we also gave room to the ones who could not be physically present. We did so by screeing a video in which we assembled moments from the interviews we carried out with them over the year, thereby making their and others' absence present in the room.
While we watched the video together, Caique Tizzi and his team arranged lunch so that the participants could think and talk about these virtual contributions in more intimate one-by-one conversations over food.
PAF and the myth of self-organisation
Collective decision-making at Ehrliche Arbeit
Gender and the distribution of work at KuLe
Trust, responsibility and bad jobs
Simone Willeit on cultural politics work, language and politics